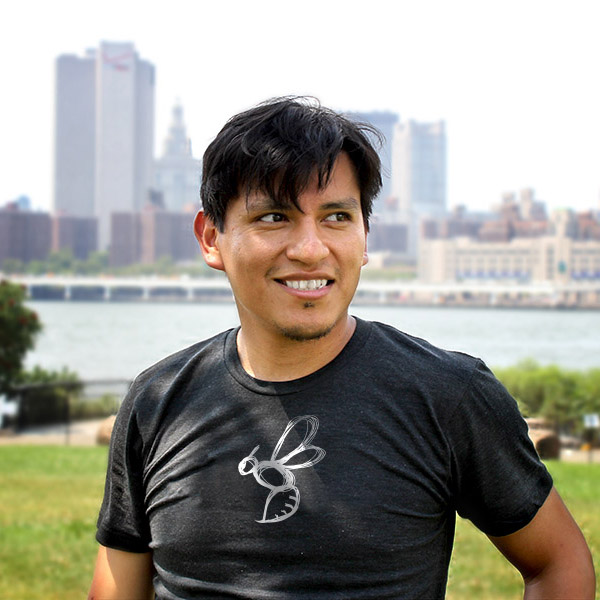 Oscar G. Torres grew up in Westchester County, NY. received a BFA from The State University of New York at Purchase College (SUNY Purchase) and a Masters from the Tisch School of the Arts in NYU where he was inspired by robots, sustainability, online social networks, computer programming and experimental media to create a new body of work. During his studies at SUNY Purchase, Mr. Torres created painting compositions inspired by mathematics, physics and the rapidly evolving technological landscape. Mr. Torres has exhibited his work on electronic art and painting in galleries like Rush Arts Gallery in New York City, ACC Gallery in Weimar, Germany and Halle 14 in Leipzig, Germany. In 2010 Mr. Torres showed his "Artbots" along side internationally acclaim artists, Such as, Stelarc, Halldor Ulfarsson, Tea Makipaa, Klaus Hähner-Springmühl and others.
Artist Statement:
Artists get inspiration from a broad range of experiences. Whether it's water lilies like Claude Monet or social chaos of DADA. A lot of artists embrace what its available to them at the moment and welcome the appropriation of these objects in the creative process. Oscar finds inspiration in the vast diversity of pre-fabricated electronics has given way to the "hacking" of these systems and reinvent the purpose of a machine. Modifications range from the attachment of mark making tools, to generating new technology that can enhance the machine for the purpose of art. The re-appropriation of technology to create art is in its infancy, just as photography was adopted by artists as early as the pinhole camera became known or printing began to take root as method for mass communication.
The raise in technology, information and open source projects has laid down a foundation for people to create machines. Artists are adopting the technology and using it in the art making process. The symbiotic relationship between the robot and human is very apparent in the scientific and manufacturing fields. Scientists use robots for things like DNA research, exploration of environments where it is difficult for humans to travel to, like outer space. Machines are used in the military, as well as, retail stores as toys or business machines. Robots are now beginning to filter into the world as tools to curate information for humans, like in the case of Google. Systems that utilize the robot as a tool are currently used widely to create generative or algorithmic work. The new generation of artists is certainly to not only use machines as tools, but also as collaborators. This shift in philosophy is what gave Oscar direction in his work.
—