Sweet, my show is this week and all are welcome to the opening!
Press Release: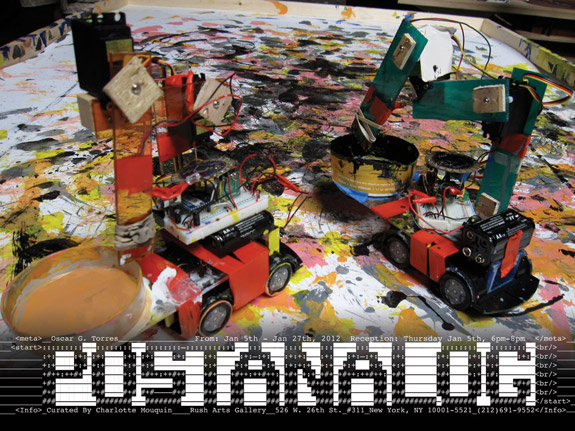 "Jackoon" 2008 and "Jackoon v2.O" 2009, Wood, acrylic and electronic components, 8″×12″×5″
Rush Arts Gallery
526 W 26th St # 311
New York, NY 10001-5521
(212) 691-9552
January 5 – January 27, 2012
Opening Reception: January 5, 6- 8pm
Electronic artist Oscar G. Torres creates art machines or "artbots" made from hacked toys, open-source code and simple fabrication materials. As the artbots travel autonomously, they lay color on the canvas with the brushes attached to their robotic arms. Simple materials such as wood and tape are used to build these machines, which contrasts the high-tech computing systems that make them function.
The term "Postanalog" is used by Torres to encapsulate society's current pseudo-symbiotic relationship with digital technology that is used in everything from the alarm clocks that wake us up in the morning, to the life support systems in hospitals that literary keep people alive. Digital technology has even infiltrated the deepest and most personal places of a person's life as embodied by the mobile phone. Machines have allowed us to see new things by extending our limited, five-sense, perception of the world. They allow us to travel far beyond the limits of space and to understand that even "thin air" is a sea of complex matter. Society is dependant on digital technology. Machines are the cradle to our civilization and their absence would result in collapse. "Postanalog" is a term that suggests the embrace of technology as a tool to help humanity thrive, and now, a tool for art.